The annual Winter NAMM (National Association of Music Merchants) show in California has just started. For those who don't know about it, this is a trade-only fair where musical instrument manufacturers and wholesalers display their current and new products to the rest of the music industry.
So far this year there have been quite a few new products of interest to vintage keyboard enthusiasts. One of the most exciting developments comes from our old friends at Vintage Vibe. Not content with reinventing (and arguably improving) the electric tine piano, this year they have on their stand two prototypes of their new "Vibanet". Viba-what?
Well, they couldn't really call it a Clavinet, but that's essentially what it is. Like the Tine Piano, it appears to use all-new parts, and it features a built-in auto-wah unit and a cool (if slightly kitsch) control panel. Improvements over Hohner's vintage D6 and E7 include easier access to the string tuners, plus a damping system that eliminates the fiddly weaving of yarn through the strings and makes re-stringing as simple as stringing a guitar. Well, ten guitars…

Vintage Vibe's Vibanet
Riding a wave of new true analogue monosynths are a few well-known names. First of all, Korg have followed up their Monotron and Monotribe micro-synths with a genuine 100% analogue reissue of their late-70s/early-80s patchable performance synth, the MS-20. What's the catch? Well, it's shrunk a little bit. In fact, it's touted as an 86% scale replica of the original, including the keyboard and the patch-bay sockets. Unlike the original, it also has a MIDI in port for those who like full-sized keys. And the good news is that it exactly replicates the functionality of the original MS-20.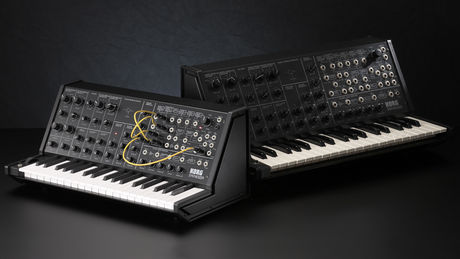 Korg's MS-20 Mini with its Dad
The very first review I wrote for the KeyBlog concerned the Stylophone S1 by British manufacturer Dübreq. Well, the latest from Dübreq is the Stylophone S2, a genuine 2-oscillator analogue monosynth with a difference. It has a 3-octave printed-circuit keyboard which is playable with the included wireless stylus or by hand. The instrument is hand-made in England, with an extruded and machined aluminium case. It runs on four AA batteries or a mains adapter, and has a built-in speaker, a 7-octave range, ring-modulation and many other features. I think it looks like something from TRON: Legacy, and I can't wait to get my hands on one.

The new Stylophone S2 synth from Dübreq
Watch this Blog for updates!